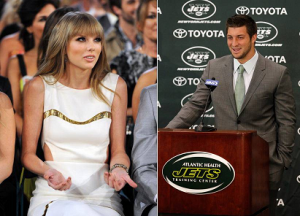 The 2012 Academy of Country Music Awards kicked off in typical fashion, with veteran co-hosts Blake Shelton and Reba McEntire trading barbs about current events and their fellow country superstars. However, one joke involving a well-known bit of gossip seemed to genuinely stun one of the superstars in the audience — namely, Taylor Swift.
Shelton and McEntire, while cracking a few jokes about current NFL darling Tim Tebow, made reference to the rumor that the uber-famous quarterback had gone on a date with Swift — a report that made headlines all over at the end of February. "Now we know what he's been praying for," Shelton deadpanned.
When the camera flashed on Swift, the blond singer had a baffled look on her face. Now, we know Swift is notorious for her dramatic on-air reactions, but in this case it appeared to be the real thing.
It's clear Swift was trying to be a good sport about the joke — but why so flustered? Could she actually have not have heard the gossip…or could she be overcompensating at being called out on the truth? It's doubtful that the football star and Swift are actually an item — most reports merely remarked about the two having dinner together — but hey, you never know.
The incident sparked some chatter on Twitter, with viewers mostly chuckling about the joke. "Taylor Swift was looking extra salty after that Tim Tebow joke, HA!" one fan tweeted. Other fans felt Shelton went too far: "He was making fun of Tim Tebow and Taylor swift," read a disgruntled tweet. "It was just rude."
Source: Yahoo News
Image: Terez Owens