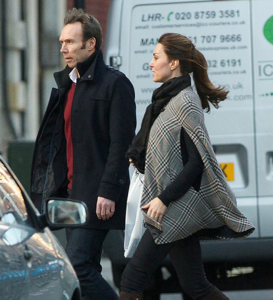 Royal baby-watchers, rejoice: Here comes the bump! Although she was wearing an oversize, tartan-print cape, Kate stepped out on Wednesday in West London revealing a new curve – and we're not just talking about her smile!
'Health is on the upswing'
With her hair back in a ponytail, the Duchess of Cambridge, 30, pulled her look together with a black scarf, black leggings and riding boots.  The mother-to-be was also recently spotted in London's Chelsea neighborhood shopping for jeggings at the Gap.
The public outings show that Kate's health is on the upswing after being hospitalized with severe morning sickness in the early days of her pregnancy.
'Due in July'
The baby is due in July. And we are certain that the whole world will be on standby around that time and will be waiting for the birth of another royal. Lots of baby news lately. Isn't that exciting?
What do you think — will Kate and William be having a girl or a boy? And what suitable name would be given to the future royal child? Feel free to share your excitement and expectations with us here. Voice out your comments to the world via the comment box below!
Source: Maggie Coughlan, People
Image: Us Magazine