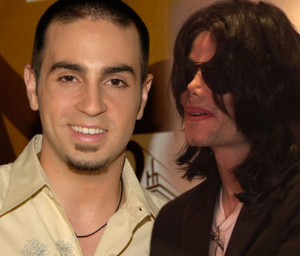 Michael Jackson has been posthumously accused of molesting a now-famous choreographer who spent lots of time with the singer at the Neverland Ranch … TMZ has learned. TMZ has obtained legal docs … filed by Wade Robson … in which he's asking for money from the Michael Jackson Estate for childhood sexual abuse.
'Sleepovers'
Wade met Michael when he was 5 years old and they developed a friendship that lasted for years.  By the time Wade was 7, he went for sleepovers at Neverland and MJ's homes in L.A. and Vegas.  The sleepovers continued until Wade was 14. Wade even performed to a Michael Jackson song on "Star Search" when he was 8 years old. Wade is now 30 years old.
'Molestation trial'
Wade's lawyer has filed the actual complaint under seal — which means it's not available to the public.  Sources tell TMZ … the complaint specifically outlines the alleged abuse at the hands of Michael Jackson. Wade's lawyer also mentions a psychiatrist who treated Wade — the doctor is a leader in the field of child psychology.
Interestingly … in the 2005 molestation trial, Jackson's former housekeeper, Blanca Francia, testified she witnessed Jackson in the shower with Wade when the boy was 8 or 9 years old.
Do you think this is Michael Jackson really molested Wade Robson when the latter was still a kid? Feel free to throw in your thoughts and opinions!
Source: TMZ
Image: Oh No They Didn't