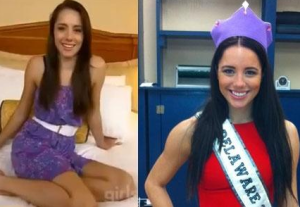 Miss Delaware Teen USA Melissa King has officially given up her crown today … after a porn surfaced on the Internet that allegedly features the 18-year-old beauty queen.
'Looks and sounds exactly like King'
King reportedly denies it's her in the hardcore sex footage — but the girl in the video looks and sounds EXACTLY like King.
In the vid — shot some time in June 2012 — the girl addresses the camera, claiming she turned 18 a couple months beforehand in March, which is King's birth month. The girl also describes her favorite sex position … before the actual sex begins.
'Four months after'
King was crowned Miss Delaware Teen USA in November … four months after the sex footage was shot.
Let's see… the porn person pictured above indeed looks Miss Delaware. But who knows, it could be anyone! OR, somebody must be very talented in photoshop! LOL!
Do you think the person in the porn vid and the Miss Delaware Teen USA is indeed one and the same person? Should Melissa King launch herself instead as a porn star, now that she has garnered some EXTRA attention? Ha! Feel free to tell us what you think of the video, er, the hot issue that Melissa King has soaked herself into! Type your thoughts in the comment box below!
Source: TMZ
Image: New York Post