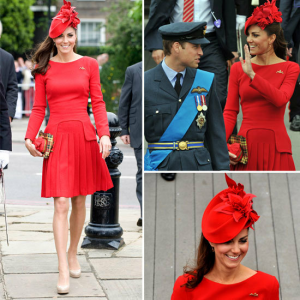 Kate Middleton was definitely dressed to impress at Queen Elizabeth's Diamond Jubilee celebration this Sunday.
Sporting a ravishing red Alexander McQueen creation, Kate, 30, was all smiles as she boarded the Spirit of Chartwell royal barge for a flotilla down the Thames River. The British fashion icon capped off her radiant look with a Sylvia Fletcher fascinator from the royal milliner, James Lock & Co, and LK Bennett "Sledge" heels. Prince William was, too, dressed to the nines — donning on his RAF Flight Lieutenant No. 1 dress uniform for the special occasion.
Kate was also joined by her brother-in-law Prince Harry and, of course, Queen Elizabeth herself. The royal family sailed along the Thames in a 210-ft. barge, which was decked with 10,000 roses, carnations, sweet peas and red charm peonies for big fete celebrating the Queen's 60th year on the throne.
Prince Andrew and his daughters Princess Beatrice and Princess Eugenie were also present as they sailed behind the Queen on the Havengore. Meanwhile, Queen Elizabeth's daughter, Princess Anne, and her husband Vice-Admiral Sir Timothy Laurence were on the Trinity House No. 1 Boat.
As for Kate's family? The Queen personally invited Catherine's family – Michael, Carole, James and Pippa Middleton – to join in the celebrations on the paddle steamer, Elizabethan.
"Michael and Carole's inclusion on Elizabethan took a lot of people by surprise, but the Queen is incredibly supportive of the duchess and her family," a palace insider told the Daily Mail.  "Boats travelling in the Royal Squadron are solely reserved for special guests of the Queen, which demonstrates just how far the Middletons have come."
Do you like the Duchess' fashion style? Tell us about your favorite Kate Middleton dress!
Source: CeleBuzz!
Image: Fab Sugar