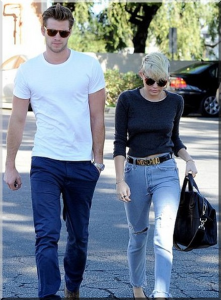 Despite all of Miley Cyrus' denials, Page Six confirms the break-up of Miley and Liam Hemsworth, citing her partying ways and his wandering eye as the main culprits.
'Wedding cancellation'
Their problems became obvious when Liam was spotted leaving a party with January Jones, and his recent bro trip to Australia (with no return date set) was just the icing on the cake. Miley adamantly denied the reports of a wedding cancellation, but she only fueled the fire when she stepped out without her engagement ring.
So why all the denial???
"Miley is a fiery character, and they do fight, but she is crazy about Liam. She isn't ready to accept it might be over for good."
'Blessing in disguise'
Their love might have burned strongly once, but they're both young and thriving in their careers. These things are bound to happen — and most of the time, it's really just a blessing in disguise.
So, do you think Miley Cyrus and Liam Hemsworth are pretty much over, or is there a chance that they will kiss and makeup? Do you think they will cancel their wedding soon? Tell us if you think these breakup rumors are true or not. Let us know your thoughts via the comment box below!
Source: Perez Hilton
Image: Etc Fashion Blog