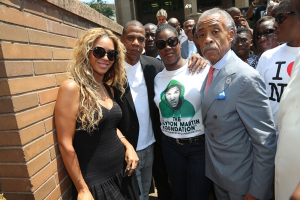 Jay Z and Beyonce have made it clear — they believe justice was NOT served in the shooting death of Trayvon Martin … they spent Saturday protesting the laws which allowed his killer to walk.
'Stand Your Ground laws'
Photos of the superstar couple showed up on Instagram … of Jay and Bey in NYC, protesting against "Stand Your Ground" laws … the law in FL which allowed George Zimmerman to claim self-defense in the shooting of 17-year-old Trayvon.
'Justice for Trayvon'
J & B were seen posing with Trayvon's mother, Sybrina Fulton, and Al Sharpton. Al reportedly told the crowd of protesters the famous couple was there … but didn't want to speak and didn't come for a photo op.
As TMZ previously reported … both Beyonce and Jay have taken time out of recent performances to honor Trayvon. And last week, Beyonce tagged a photo on Instagram "JusticeForTrayvon."
What is your opinion regarding the Trayvon Martin case — is George Zimmerman guilty of murder or not? How about the "Stand Your Ground" law — are you in favor of it or not? Feel free to share your thoughts and opinions with us. Let your voice be heard via the comment box below!
Source: TMZ
Image: Rolling Stone