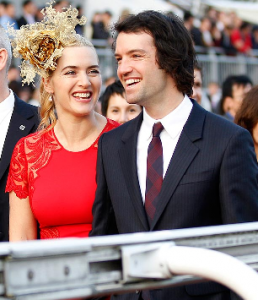 Kate Winslet has tied the knot with Richard Branson's nephew, Ned Rocknroll, her rep tells PEOPLE.
'Ceremony so secret'
"I can confirm that Kate Winslet married Ned Rock'nRoll in NY earlier this month in a private ceremony attended by her two children and a very few friends and family," the rep says. "The couple had been engaged since the summer."
According to British media reports, Leonardo DiCaprio gave away the bride in a ceremony so secret that the bride and groom's parents didn't know about it. Ha! And we have no idea how they were able to hide this wonderful ceremony from everyone!
'Caribbean island'
The Oscar-, Golden Globe- and Emmy-winning actress, 37, has been dating Rocknroll, 34, (his legal name) since fall of 2011. In August 2011, she and Rocknroll were on the same Caribbean island owned by Branson when a fire broke out and Winslet rescued Branson's 90-year-old mother.
Don't you just love it when celebrities sneakily pull off successful secret weddings? What can you say about the new Mrs. Rocknroll? Feel free to tell us about your favorite celebrity secret wedding. Share your thoughts and well wishes for the newly married couple in the comment box below!
Source: Mike Fleeman and Julie Jordan, People
Image: Desi-Radio