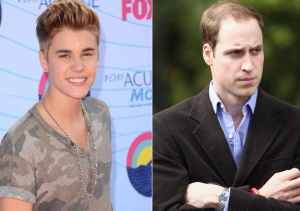 Justin Bieber clearly does not believe bald is beautiful … in fact, the pop star thinks Prince William's thinning hairline is downright embarrassing.
Bieber went after the Prince to Rollercoaster magazine, a U.K. publication … after the Prince's disappearing locks became the topic of conversation.
"I mean, there are things to prevent that nowadays, like Propecia," Bieber said. He added, "I don't know why he doesn't just get those things, those products. You just take Propecia and your hair grows back. Have you not got it over here?"
So, what business does he have with Prince William's thinning hair? And hasn't he heard that Propecia has some REALLY SERIOUS side effects like long-term infertility and shrinking manhood? Being married for just over a year, maybe the Duke of Cambridge should just enjoy his bare charm and shy away from those hair growing chemicals lest it jest his chance to have an heir, wouldn't you agree?
So far, no comment from Prince William … but we're guessing it would go something like, "Justin Bieber is a bloody wanker" … or something Britishy like that.
What do you think of Justin Bieber's comments about the Duke of Cambridge's receding hairline? And should Prince William really opt for Propecia? Share your thoughts with us!
Source: TMZ
Image: Pop Crush