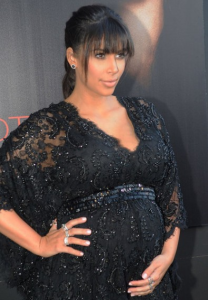 Father's Day came early for Kanye West, who welcomed his first child with girlfriend Kim Kardashian on Saturday morning.
'Miracle'
Although PEOPLE confirmed the news through a source, the Kardashian family has remained uncharacteristically mum on social media – until Sunday afternoon, just in time to honor the day for dads.
"HAPPY FATHERS DAY @kanyewest !!!!!" Kardashian matriarch Kris Jenner Tweeted.
Jenner's shout out was followed by a message from Kim's sister, Khloé Kardashian Odom, who Tweeted:
"I cannot even begin 2describe the miracle that is now a part of our family. Mommy/baby are healthy & resting. We appreciate all of the love."
'Several weeks early'
Kim, 32, who appears to have gone into labor several weeks early, was accompanied by her beau, 36, at the hospital when she gave birth to their baby girl, whose name has not yet been released to the public.
What name do you think will Kim Kardashian and Kanye West choose for their little bundle of joy? (Clue: Starts with a letter K???) And when do you think will they finally walk down the aisle? Feel free to share your thoughts and opinions regarding this latest celebrity baby news. Let your voice be heard via the comment box below!
Source: Dahvi Shira, People
Image: Arab News Agency