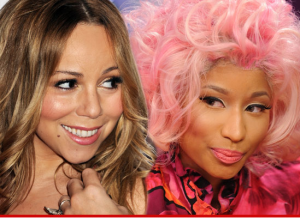 Does Nicki Minaj's profanity-laced outburst on the set of American Idol raise questions about whether she's right for the family-friendly singing competition?
With a career as a no-holds-barred rapper, Minaj – who is heard on the tape saying to fellow new judge Mariah Carey, "I'm not f–––in' putting up with her f–––ing highness over there" – brings a previously unseen edge to Fox's hit show. But her on-set antics haven't been received well by all.
Barbara Walters recounted speaking to Carey about the incident on The View Thursday. "[Mariah] said that what you heard was troublesome, but that's not what worries her," Walters told the audience. "When Nicki walked off the set, people heard her say if she had a gun she would 'shoot that b––h.' "
Minaj took to Twitter Thursday to refute Walters's and Carey's claims of any threats of gun violence. "Hey yAll. Lets just say Nicki said smthn about a gun. ppl will believe it cuz she's a black rapper. Lmao. I'll then hit up Barbara n milk it," she Tweeted.
"Ironically no camera or mic heard the gun comment tho. Lol @ the struggle. Not even the producers believed u. Say no to violence barbz," Minaj continued. (Minaj refers to her fans as Barbz.)
In this feud between two new American Idol judges, whose side are you taking? Should Nicki Minaj just walk away from this newfound career; or should Mariah Carey just welcome her with open arms? Feel free to share your thoughts about this latest celebrity beef!
Source: People
Image: TMZ