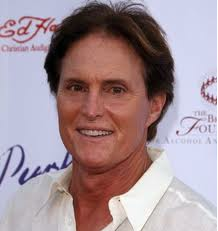 He's the least ubiquitous of the Kardashians, and for that Bruce Jenner deserves (another) medal. Esquire bestows the legendary Olympian with the title of "Father of the Year" in its June issue.
As the magazine's writer describes, the reality TV family's sprawling Calabasas, California, home is decorated to honor its show ponies: Kim, Kourtney, Khloe, Kendall, and Kylie (the latter two daughters are his with wife Kris Jenner). "There is no red singlet in a frame; his gold medal is nowhere to be found. For the most part, Bruce Jenner, Olympian, has been banished to the garage."
But as sad as it may seem, Jenner doesn't mind his emasculated role. "I'm done with competition," admits the man who won the gold medal for decathlon in the 1976 Montreal games. Instead, the 62-year-old is content to do school runs, babysit Kourtney's son Mason, and play with his prized Goblin 700 remote-control helicopter in the backyard.
How Jenner became arguably one of the greatest athletes of all time is a bit of a fluke. He explains that it was his childhood affliction with dyslexia that made him focus on one of the few things he was good at: running. "My greatest gift in life was being dyslexic," he says. "It made me special. It made me different. If I had not been dyslexic, I wouldn't have needed sports. I would have been like every other kid…"
Kris acknowledges that she and her husband are "exact opposites," and it's his laid-back personality that grounds the household (or at least, he tries) while she's busy managing her children's careers. As Khloe puts it in the article, Jenner — who has three sons and a daughter with his two previous wives — "wasn't able to give his children what they needed" when he was busy being an athlete. Now, with Kendall, 16, and Kylie, 14, he has been able to change that.
Do you think Bruce Jenner is the right person to be named "Father of the Year?" Tell us what you think!
Source: Yahoo News
Image: Anything Hollywood