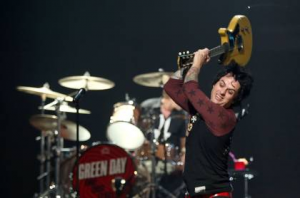 Green Day's front man Billie Joe Armstrong is entering rehab for substance abuse … a rep for the band tells TMZ.
The news comes just two days after Armstrong went ballistic in Las Vegas on Friday night during a performance at the iHeart Radio Music Festival at the MGM Grand Theater. He was videotaped screaming obscenities, slamming Justin Bieber and violently smashing his guitar on-stage. He went berserk after they were told that they only had a minute left to wrap up their performance.
"You're gonna give me one minute? I've been around since f–ing nineteen eighty f–king eight, and you're gonna give me one minute?! You've gotta be f–ing kidding me! I'm not f–ing Justin Bieber, you motherf–ers!" he was reportedly heard screaming. "Let me show you what one f–ing minute f–ing means," he said while he was smashing his guitar onstage.
The band's rep tells TMZ,  "Green day wants to apologize to those they offended at the iHeartRadio Festival in Las Vegas." The rep adds, "The band regretfully must postpone some of their upcoming promotional appearances."
Well, what a relief! Don't you agree? Do you think Billy Joe Armstrong will be able to come out from rehab a new man? Give us a holler in through the comment box below!
Source: TMZ
Image: USA Today