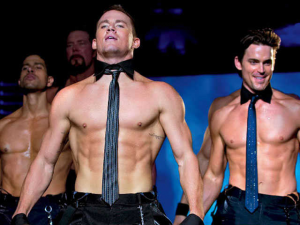 Ladies, get your dollar bills out for this one. It's been established for a while that Channing Tatum used to strip. So it's only fitting he play the lead in "Magic Mike," about a male stripper in search for more than just money and lascivious women.
Seemingly out of character, the comedy is directed by Oscar winner Steven Soderbergh ("Erin Brockovich," "Traffic"), in theaters June 29th. Meanwhile, true-to-character, Matthew McConaughey appears shirtless in the newly-released trailer (below) as a strip club owner.
Tatum's moves are impressive, but I'd expect nothing less: Before he was famous, Tatum worked as a male stripper in Tampa, Florida, when he was 19-years-old. It's no wonder his dancing is so professional-looking!
Sure the actor is reaching for higher-profile roles in films such as "21 Jump Street" and "The Bitter Pill" (also directed by Soderbergh and starring Rooney Mara, due out next year), but he is more than willing to poke fun at his beefcake persona—as he did earlier in the month when he grind-danced on Elton John during a concert. Co-starring with Channing and all of his bulges are Olivia Munn and Cody Horn.
Are you excited to watch Channing Tatum perform as a stripper? Be prepared to drool and share your comments below!
Source: Yahoo News
Image: TSM Interactive