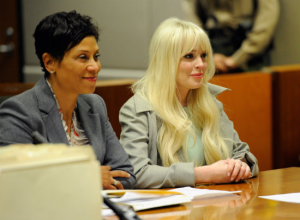 Lindsay Lohan has made one of the worst decisions of her life … firing Shawn Holley – the lawyer who has kept her out of jail multiple times — and hired a New York lawyer, who was suspended from practicing law for 5 years back in 1994 … sources tell TMZ.
'Too effective'
Lohan is facing criminal prosecution in both California and New York.  Attorney Mark Heller is repping Lindsay in the NYC assault case. Shawn Holley was repping LiLo in L.A. in her multiple criminal cases — most recently the car crash where she allegedly lied to cops.
It's a stunning development — given that Holley has taken heat for being too effective, keeping Lindsay out of the pokey in the jewelry heist case as well as several probation violation cases. And she's almost magically made some criminal investigations disappear.
'Sweet settlement'
Bad timing on Lindsay's part, because sources tell us … Holley was literally on her way to the courthouse when Heller sent his letter — she was trying to negotiate yet another sweet settlement for Lindsay in the lying-to-cops case.
What do you think made Lindsay Lohan decide to fire Attorney Shawn Holley and hire Attorney Mark Heller in her place? Could this decision yield any positive result in her legal problems?
Source: TMZ
Image: Zap 2 It