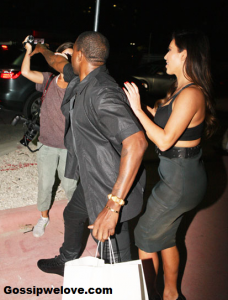 Kanye West got mad … real mad (Joe Jackson) … at a paparazzi in Miami last night … after the snapper fired off some questions about Kim's ex-BF Reggie Bush.
'Congratulate Reggie?'
Kanye and Kim Kardashian were leaving a dinner date in Miami Beach, when the photog — NOT OURS — shouted, "Kim did you know Reggie is here [in Miami] having dinner?" The pap continued, "Did you wanna go congratulate him on his pregnancy?"
That's when Kanye snapped — angrily rushing after the female pap after grasping for her camera — but never actually striking the woman.  Kim was smiling during the entire confrontation.
'Kanye West just tried to beat me up'
K&K then got into a waiting Rolls Royce Phantom and left the scene. Afterward, the pap told other photogs, "Kanye West just tried to beat me up."
It definitely ain't the first time Kanye's gone crazy on a snapper — trust us, we know … 'cause he SMASHED THE HELL out of a TMZ camera at LAX back in 2008.
What do you make out of Kanye West's outburst about the Reggie Bush question? Do you think he still feels insecure or inadequate in comparison to Kim Kardashian's ex? Feel free to air out your thoughts and opinions to the world via the comment box below!
Source: TMZ
Image: Zimbio