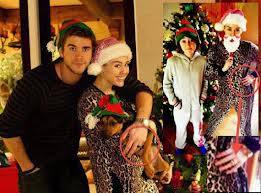 After Miley Cyrus tweeted the pics of her and her fiancé Liam Hemsworth and with her sister Noah from Christmas Day, something inneresting caught our eye. Liam is clearly seen wearing a dark band on his wedding finger. And, what's even more curiouser is that Miley is donning a shiny diamond band across HER wedding finger.
'Jingle all the way down the aisle'
What is going on here? Did the two jingle all the way down the aisle?? Or are they just "testing" out their new wedding bands before the big day??
What's even more strange is that the two lovebirds were seen visiting a family friend in Palm Springs, Calif. the day AFTER Christmas WITHOUT said wedding bands when paps were sure to catch them.
'Mind game'
Is this some weird Hemsworth-Cyrus mind game they're playing with us?? After all, this is coming from the girl who posed with a sex doll just before the holidaze.
Do you think Miley Cyrus and Liam Hemsworth indeed got married secretly during Christmas? Or are they just messing with our minds? Feel free to comment on this mos recent celebrity wedding speculation. Type in your thoughts and opinions in the comment box below!
Source: Perez Hilton
Image: The Count