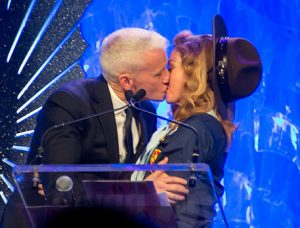 Madonna and Anderson Cooper embraced in a a big smooch as she presented the CNN newsman and talk show host with an honor at the New York edition of the GLAAD Media Awards at the Marriott Marquis.
'Promoting equality'
Cooper was the recipient of this year's Vito Russo Award, which goes to an openly gay, lesbian, bisexual or transgender media professional who has made a significant difference in promoting equality.
'For the community'
The Material Girl, who memorably kissed Britney Spears and Christina Aguilera during a performance at the 2003 MTV Video Music Awards, also left people buzzing about her outfit. She was decked out in a full Boy Scout's uniform — her version of it anyway, featuring special touches like fingerless gloves and a cowboy hat — to protest the organization's ban on gay scouts and scout leaders.
"I wanted to be a Boy Scout, but they wouldn't let me join," she told the crowd. "I think that's [messed] up. I can build a fire. I know how to pitch a tent. I have a very good sense of direction. I can rescue kittens from trees. Listen, I wanna do for the community."
During his acceptance speech, Cooper thanked his boyfriend since 2009, Benjamin Maisani.
Are you jealous that Madonna and Anderson Cooper locked lips during the GLAAd Awards? And what do you think of Madonna's version of the boy scout outfit — like or gripe?
Source: Raechal Leone Shewfelt, Yahoo OMG
Image: Examiner