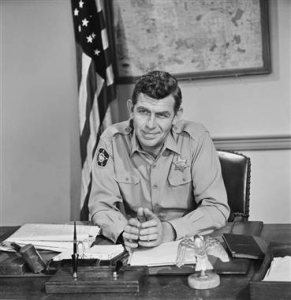 Andy Griffith, the beloved Sheriff Andy Taylor of TV's iconic The Andy Griffith Show and dramatic defense attorney on Matlock, died at his North Carolina home Tuesday morning. He was 86. Andy's close friend, former UNC President Bill Friday, broke the news to North Carolina's WITN News, saying Griffith died at his Dare County home around 7:00 a.m.
A native of Mount Airy, N.C., Griffith originally wanted to be an opera singer, then a preacher, before turning to acting in college. In the late '40s, he and his new bride, the former Barbara Edwards, set out with song-and-dance act that eventually evolved into his delivering folksy monologues on early TV variety shows such as The Ed Sullivan Show.
In 1954, Griffith's star was launched when he starred as the bumpkin army draftee in Broadway's No Time for Sergeants, and he repeated the role in the 1958 movie version, which also starred his later TV sidekick, Don Knotts. The two achieved immortality playing Sheriff Andy and Deputy Barney Fife from 1960-68 on The Andy Griffith Show, which also helped launch actor (and later Oscar winning movie director) Ron Howard, as Andy's son Opie. The show was set in Mayberry, and America lapped it up.
As folksy in person as he was on screen, Griffith was married three times. His first, to Edwards, ended in divorce in 1972. They had three children, two daughters and a son who died in 1966. Griffith's second marriage ended after five years, in 1981. He is survived by his third wife, Cindi.
What are your fondest memories of Andy Griffith? Share your thoughts with us in the comment box below!
Source: People
Image: Entertainment On Today