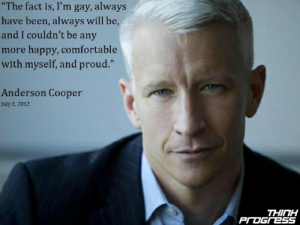 Anderson Cooper has confirmed what most people in the media world and New York already knew: He is gay.
"The fact is, I'm gay," Cooper wrote in an email to Daily Beast blogger Andrew Sullivan. "Always have been, always will be, and I couldn't be any more happy, comfortable with myself, and proud."
Sullivan, who is gay and is a longtime friend of Cooper's, had asked the CNN anchor for his reaction to a recent Entertainment Weekly story—"The New Art of Coming Out"—which was, in part, about the importance of gay celebrities coming out of the closet to combat America's bullying epidemic.
Cooper answered: "Even though my job puts me in the public eye, I have tried to maintain some level of privacy in my life… But I've also wanted to retain some privacy for professional reasons. Since I started as a reporter in war zones 20 years ago, I've often found myself in some very dangerous places. For my safety and the safety of those I work with, I try to blend in as much as possible, and prefer to stick to my job of telling other people's stories, and not my own…"
In 2007, Out magazine put Cooper on its list of the 50 most powerful gays. In 2011, Cooper gave a winking nod to his homosexuality during a panel discussion with writers from The Onion. And last month, Cooper was among the celebrities featured in a New York Observer cover story on "the glass closet."
"In a perfect world, I don't think it's anyone else's business, but I do think there is value in standing up and being counted," Cooper—who says he's always been open with family and friends—added in his email. "Visibility is important, more important than preserving my reporter's shield of privacy."
Are you happy for Anderson Cooper for publicly confirming that he's gay? Tell us your opinions about this story!