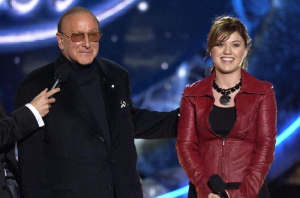 Clive Davis may have made headlines by revealing his bisexuality in his new memoir, but Kelly Clarkson is more concerned about what he's written in regards to her career.
'I resent him'
In his newly released memoir The Soundtrack of My Life, Davis recalls a meeting with Clarkson that was "a very tough conversation, and it didn't get any easier when Kelly burst in to hysterical sobbing," while discussing the inclusion of "Since U Been Gone" on her second album, Breakaway.
"Not true at all," Clarkson says. "His stories and songs are mixed up. I couldn't be more proud of that song. I resent him dampening that song in any way… I cried after I played him a song I had written about my life called 'Because of You,' " she says. "He hated it and told me verbatim that I was a 's–––ty writer who should be grateful for the gifts that he bestows upon me.' "
'Don't have to cower to anyone'
Davis recalls a completely different version of the "Because of You" conflict in his book, released Tuesday.
"In subsequent interviews Kelly said that she had to fight to get "Because of You" on the album, but that simply wasn't the case," Clive writes. "I have no idea where she heard that."
Despite the difference in memories, the engaged Clarkson remained positive in her blog.
"I love my job. I love my music. I love my fans," she says. "Growing up is awesome because you learn you don't have to cower to anyone – even Clive Davis."
Do you think Clive Davis' memory was indeed mixed up? Team Clarkson or Team Davis?
Source: Patrick Gomez, People
Image: Billboard