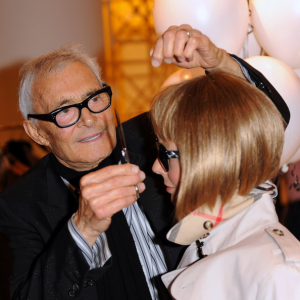 Famous hairstyling pioneer Vidal Sassoon died in his California home on Mulholland Drive this morning. Sassoon, 84, died of natural causes with his family at his bedside. According to the AP, there will be no police investigation and no further details are available at this time.
Sassoon was born in England in 1928, and after his father's early death, his impoverished mother placed him and his brother in a Jewish orphanage for seven years. Upon his return to London he left school at the age of 14 and began a hairdressing apprenticeship at his mother's request. Later he fought in the Israeli army before fulfilling his mother's dream and becoming a hairdresser.
He opened his first salon in London in 1954, and in 1963 he revolutionized the current popular hairstyles with modern, angular bob cuts. This style was made famous by British designer Mary Quant, the woman responsible for popularizing mini skirts. Sassoon's geometric wash-and-wear hairstyles drew lots of attention, as they were so perfect they required little to no styling–ideal for the women's liberation movement going on at that time.
Sassoon rose to international fame in 1968 after giving actress Mia Farrow her pixie cut in the film "Rosemary's Baby." He flew to Hollywood and cut off her long hair for a whopping $5,000. The style is still imitated to this day. He opened more salons in London and the United States, and in 1973 Sassoon launched his own line of hair care products with the slogan, "If you don't look good, we don't look good." He also established Vidal Sassoon Academies to teach young stylists his perfected technique.
Sassoon was married four times and had four children with his second wife, a part-time actress named Beverly Adams. His eldest daughter Catya, an actress and model, died in 2002 of an accidental overdose. Sassoon is survived by three children and his fourth wife, Ronnie.
Are you a fan of Vidal Sassoon's legacy in styling? Share your thoughts with us!
Source: Yahoo News
Image: Examiner