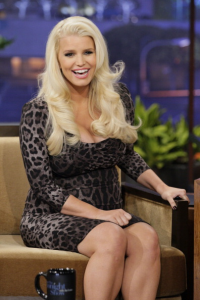 Jessica Simpson says she was channeling a certain curvaceous reality star when she posted a bikini bump self-portrait on Twitter during her Christmas holiday in Hawaii.
'Kim Kardashian moment'
"I felt really hot, and I thought I deserved a Kim Kardashian moment, you know? I was really feeling it, like, 'Oh, my bump looks cute. I'm going to share that,'" the Fashion Star mentor quipped during an appearance on Tuesday's Tonight Show with Jay Leno.
But Simpson, 32, says her second pregnancy has been anything but a feel-good time. She's been nauseated and not having the same sort of cravings as when she was expecting daughter Maxwell Drew, who's now 8 months old and beginning to crawl. That morning sickness may be a good thing for the Weight Watchers spokeswoman. Simpson says she gained "a lot more" than her doctors recommended the first go-round, but this time she hopes to eat healthier and not go too crazy.
'Part of God's plan'
The second pregnancy, she added, was not planned and surprised both her and fiancé Eric Johnson, whom she joked was "really proud" that it happened all over again so quickly.
"Apparently it was a part of God's plan for my life," Simpson says with a laugh. "I was extremely shocked. I was shocked because I was going through a lot of hormonal changes trying to get back to the old, vibrant Jessica. And you know, it was kind of like a one-night stand. And it happened … all over again!"
Her much-anticipated wedding, she says, just keeps getting pushed back.
What do you think will be the name of Jessica Simpson and Eric Johnson's second baby? And when do you think will her dream wedding finally take place?
Source: Andrea Billups, People
Image: Zap 2 It