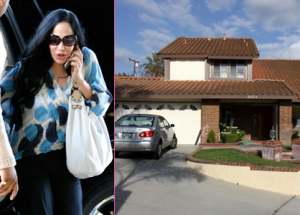 Success!!! After multiple rejections from landlords… Octomom and her 14 kids have finally secured a new place to live… and TMZ has learned, she's paying for her new digs with PORN MONEY.
Sources tell us, Nadya Suleman's new hatchery is located in Palmdale, CA — and according to the listing, it features 5 bedrooms, 3 bathrooms, a 3-car garage… and a massive 14,000 sq. ft. back yard where she can pasture her children. Whoa! That backyard should be enough for more than a dozen kids' playground!
We're told the backyard also includes a gated pool and spa with a slide and a gazebo. And the entire place is only running her $2,150 a month — gotta love back country California. Hmmm, sounds nice and cozy enough. Don't you envy all the space and luxury she acquired for a reasonable amount?
We're told Octomom dropped 8 months rent in advance to secure the place, plus a giant deposit — and most of the cash came from her solo masturbation video. She plans to move in shortly.
Well, what can you say about Octomom's new house? Aren't we all glad she finally found a place to nestle her tots! Share your thoughts about Octomom's newly acquired property. We'd love to hear from you!
Source: TMZ
Image: Dear Bloggery