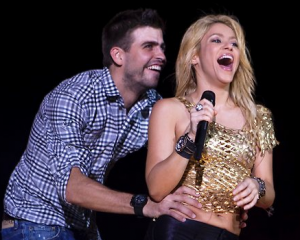 Yes, Shakira is pregnant. The singer, 35, confirmed the news in a post on her website Wednesday, explaining that she needs to cancel a work commitment as a result.
"As some of you may know, [boyfriend] Gerard [Piqué] and I are very happy awaiting the arrival of our first baby! At this time we have decided to give priority to this unique moment in our lives and postpone all the promotional activities planned over the next few days," she writes.
"This means I will not be able to be a part of the iHeart Radio Music Festival … I'd like to thank Clear Channel and my fans for their constant love and understanding. Big kiss!" Awww, we are sure Shakira's fans would understand that. But that doesn't mean we're not gonna miss her during her brief absence.
Shakira and Piqué, 25, central defender for FC Barcelona,confirmed their relationship in March 2011. This will be the first child for both. On Tuesday, NBC announced that she will temporarily replace Christina Aguilera as a judge on season four of The Voice.
Well, with all the baby news flooding in, we just gotta ask — do you think the baby will be as pretty as Shakira, or as handsome as Gerard Piqué? Ha! Either way, we are sure the child will be absolutely gorgeous and talented. Moniker suggestions, anyone?
Source: People
Image: The Telegraph