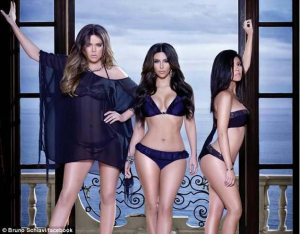 Another Kardashian controversy! Younger sister Kim posted a promo ad of herself, Kourtney, and Khloe in bikinis wearing their Kardashian Kollection at Sears. The problem? Pregnant sister Kourtney, 32, looks much slimmer in the promo shot reportedly taken in late January than paparazzi photos show her at the time.
If you recall, the "Kourtney and Kim Take New York" star announced she was expecting a second bundle of joy with her boyfriend Scott Disick on November 30. The couple is already parents to adorable 2-year-old son Mason. Kourt confessed to E! that she learned the news by taking a pregnancy test five weeks before that, which means she was — are you ready for this — about three months pregnant at the time the Kardashian Kollection swimwear pic was taken!
Do you think the photo was altered? If Kourtney's baby bump was indeed Photoshopped out, why couldn't she have thrown on the bathing suit cover-up instead of Khloe? Kourtney's rep didn't respond to a request for comment. Regardless, Kourtney looks gorgeous as usual in the ad. Talk about a hot mama!
One of the people responsible for capturing the trio on film was photographer Nick Saglimbeni, who's worked with the girls many times. He revealed to Celebuzz.com and omg! that this shoot was a lot of fun, and filled with tunes from J.Lo, Rihanna, Nicki Minaj, and Beyonce.
Source: Yahoo News
Image: Mommyish