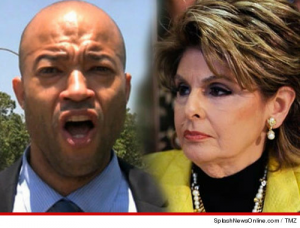 The lawyer who filed a sexual battery lawsuit against John Travolta on behalf of two male massage therapists and then dismissed it is now suing another lawyer for allegedly stealing his clients.
The federal lawsuit was dismissed last week after one client dropped out after confusion over the date of the alleged incident and the second plaintiff fired attorney Okorie Okorocha and hired high-profile lawyer Gloria Allred. Allred, who now represents both men, said she is considering refiling the lawsuit against Travolta in another court. She denied that she solicited them, insisting they contacted her. Travolta sexual battery lawsuit withdrawn, but case may go on
Okorocha filed a lawsuit in Los Angeles County Superior court Monday contending that Allred illegally and unethically solicited the second client — identified as John Doe #2. An exhibit attached to his complaint is a screenshot of a cell phone text message exchange he said was with John Doe #2 two days before the client fired him and hired Allred.
"She ain't been in a courtroom in 20 years. Just doing stupid ass press conference side shows," Okorocha, a lawyer who specializes in drunk driving trials, wrote in reply.
Two days before he was fired by John Doe #2, Okorocha told CNN that he believed Allred was trying to steal his client. She denied the charge that day. Okorocha received a call two days later from that client telling him he was fired and that Allred was his new lawyer, Okorocha said.
Okorocha's suit accuses Allred of intentional interference with contractual relations, intentional interference with prospective economic relations and unfair business practices. Allred called Okorocha's allegations "false, outrageous and defamatory" and demanded a retraction. She told CNN Monday that she would file a defamation suit against Okorocha if he sued her.
Between the two lawyers, who do you think is telling the truth? Share your opinions with us!
Source: CNN
Image: TMZ