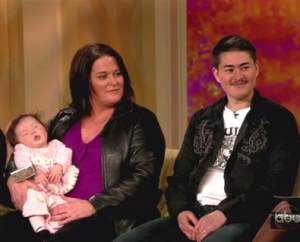 Thomas Beatie, who made headlines in 2008 as the only legally recognized man known to have given birth, has separated from his wife of nine years, according to People magazine.
Beatie, who has had three children with wife Nancy, announced the split during a taping of the CBS syndicated show "The Doctors." Beatie also revealed that he's had the final female-to-male gender reassignment surgery. He also discussed how people have reacted to the transgendered dad and his family, and detailed the medical complications from years of hormone treatments.
Beatie was born in Hawaii as Tracy Lagondino in 1974. He was a Girl Scout, model, and finalist in a Miss Hawaii Teen USA pageant before he began to dress and live as a man in his 20s, he told People. He had sex-reassignment surgery in 2002, took twice-weekly doses of testosterone, and had his breasts surgically removed during his female-to-male transition before legally changing his gender on his passport and Hawaii driver's license. In 2003, he legally married Nancy, a divorced mother of two who had had a hysterectomy due to endometriosis.
Despite his legal male status, Beatie left his female reproductive organs in place, and had never undergone "bottom" surgery, known as phalloplasty, to create an artificial penis — until now. It's unclear if the couple will divorce, though the International Business Times reports that "more information will be revealed" when the interview airs next month.
Do you think Thomas Beatie would still be a good dad despite being a "mom" plus the complications of being separated from his wife? Tell us what you think!
Source: Yahoo News
Image: Bump Shack