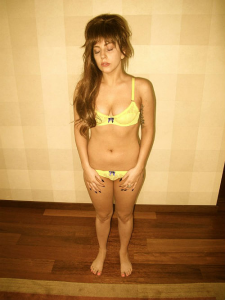 After receiving quite a bit of negative attention for her recent weight gain (she put on 25 pounds), Lady Gaga took to her social media website,LittleMonsters.com, to respond — and to reveal a painful secret.
On Tuesday, Gaga posted a photo (left) of herself wearing nothing but a yellow bra and underwear, along with this caption: "Bulimia and anorexia since I was 15." With the picture, she announced the launch of a new movement, "A Body Revolution 2013," meant to encourage body acceptance.
On her site, Gaga explains that the inspiration behind the movement stemmed from the Born This Way Foundation, an organization she started with her mother to stop bullying and embrace individuality. "This profile is an extension of that dream," she wrote. "Be brave and celebrate with us your 'perceived flaws,' as society tells us. May we make our flaws famous, and thus redefine the heinous."
Unsurprisingly, the Mother Monster's positive message resonated with her Little Monsters. Soon after the post went up, fans began flooding the website with photos of themselves in their underwear and sharing their own personal struggles with body image issues.
Are you happy for Lady Gaga that she has finally come to embrace her self-image instead of conforming to society's standards? Tell us how you have conquered your own body image insecurities!
Source: People
Image: Allie is Wired