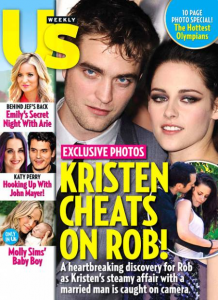 Kristen Stewart cheated on co-star/boyfriend Robert Pattinson with her "Snow White and the Huntsman" director Rupert Sanders, who is married with two children, reports both Us Weekly and People.
According to a photographer who snapped the actress and her 41-year-old director during a "marathon makeout session" on July 17 (Us Weekly has the pics in its new issue, on newsstands Friday), the two "couldn't get enough" of each other.
Almost immediately after the indiscretion, Stewart, 22, had a change of heart and now feels terrible. "Kristen is absolutely devastated," a source tells People, which was the first to break the story. "It was a mistake and a complete lapse in judgment." And won't happen again, adds the source. "She wasn't having an affair with Rupert. It was just a fleeting moment that shouldn't have happened. She never meant to hurt anyone. She's a good person who just made a bad choice."
It's unclear if Pattinson is aware of what allegedly happened between Stewart and Sanders. The couple appeared happy together at the Teen Choice Awards this past Sunday, and even wore coordinating blue-and-black outfits when they stepped onstage to accept the "Ultimate Choice" honor. (They did not walk the red carpet either together or separately.) A few days before the July 17 incident, Stewart and Pattinson giggled as they dished on Bella and Edward's sex scene in the upcoming "Breaking Dawn – Part 2″ at Comic-Con.
The final installment in the "Twilight" series will hit theaters November 16 … but will Robsten still be together? Reps for both Stewart and Sanders, who is married to model-actress Liberty Ross, had no comment.
Do you think Kristen Stewart really cheated on Robert Pattinson? Will their relationship stand through this cheating scandal? And what will become of Snow White director Rupert Sanders? Do share your thoughts with us!
Source: Yahoo News
Image: Perez Hilton