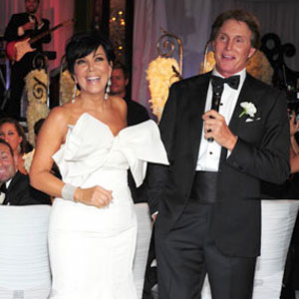 Remember the scene in Sex and the City 2 when Carrie (now married to Big) meets up with ex-fiance Aidan… AND THEY KISS!? Well… it looks like Kris Jenner might just be taking a page from Michael Patrick King's fictional betrayal.
For everyone Keeping Up With the Kardashians, you already know her marriage to Bruce Jenner is strained. And honestly, as much as we love the momager for her fierce work ethic, it can be heartbreaking to watch Bruce sometimes (fake or not). But even though they've shared their ups and downs, nothing compares to the latest trial they've faced — animator Todd Waterman.
Todd was the man she cheated on Robert Kardashian with. And now he's back… and he's causing havoc for Bruce's state of mind! The National Enquirer apparently has a photo of the two in a "clandestine hug!" The latest issue details the heart-wrenching tale, with sources revealing:
"Kris told no one, but she did go out with Todd, and it was an electrifying date. Kris walked out of the restaurant where they'd met looking like the cat that ate the canary. It's so obvious that she still carries a torch for him. I don't think [Bruce] can believe that Kris has had the audacity to keep it up with Todd when their marriage is on the line. Bruce would feel totally betrayed if he actually knew the length and breadth of Kris and Todd's current relationship. They had continued to feverishly e-mail each other, flirt and text. I think Kris is covering up a lot of secrets and lies… Bruce's feelings are still raw. I don't think he can take much more, and will be wondering what else Kris is up to behind his back."
Do you think this is true? Did Kris Jenner just jeopardize her marriage to Bruce Jenner by seeing an old flame?
Source: Perez Hilton
Image: E! Online