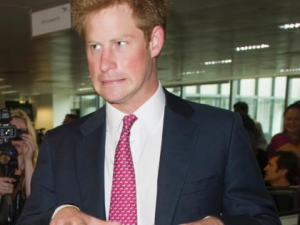 Following all of the scandal that came with Prince Harry's bootylicious nakie pics, an eyewitness has come forward to reveal an even crazier detail… Apparently, the powdery white nose fairies were in attendance. You know what we're talking about!!!
According to the onlooker:
"Things got pretty crazy in Prince Harry's suite that night. Everyone was drinking and drugs were also being used by some people. Some people were snorting cocaine.

Some were already rolling on shrooms (hallucinogenic mushrooms) when they arrived at the party, and some were just high on weed. And that's exactly why no one there has come forward on the record…they don't want to be implicated for any illegal activities."
The source makes sure to say they didn't see Prince Harry take a nose dive into white. But they also say they didn't have their eye on the royal the whole night. So if video footage pops up with Harry snorting some of the danger dust, well… let's just say the Palace won't be too quick to defend him anymore!
Do you think Prince Harry may have been snorting cocaine during his naked romp in Vegas? Would the Palace stand by him should all these allegations turn out to be true? Feel free to share your thoughts with us!
Source: Perez Hilton
Image: NY Daily News