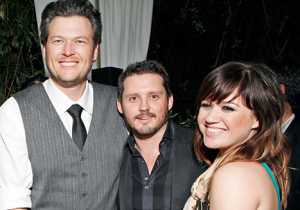 Kelly Clarkson has someone she owes an extra special thank-you to this holiday season. The Grammy-nominated pop star, 30, wouldn't necessarily be closing out 2012 as an engaged woman if it weren't for Blake Shelton.
'You need to marry this girl'
"I told Brandon [Blackstock], 'Man, you need to grow up and figure out that you need to marry this girl,'" Shelton, 36, who is managed by Clarkson's fiancé, told Hollyscoop. "You need to get your head out of your ass and ask that girl to marry you."
The Voice coach was so adamant about the proposal that he even offered up quite the personalized present.
'One hardheaded dude'
"I am going on the record saying I will do the music at the wedding or whatever [they] want to do," Shelton said. "I'll be that guy. I will play for four hours if I have to."

"I'm so glad he did [it]," adds Shelton. "He is one hardheaded dude – and she's the best thing to happen to him."
Are you happy that Kelly Clarkson finally got engaged to Brandon Blackstock with the help of Blake Shelton? What do you think will be their type of wedding? Feel free to type in your thoughts and opinions in the comment box below!
Source: Dahvi Shira, People
Image: Us Magazine