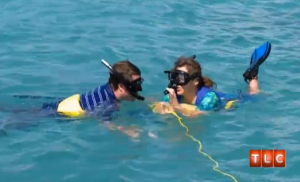 On a recent marriage retreat to Puerto Rico filmed for their reality show, TLC's 19 Kids & Counting, Michelle and Jim Bob Duggar decided to go snorkeling. But not in typical bathing suits.
'Cover up'
"In society, sometimes there's this idea that we cover up at certain times and then we go to the beach and wear our underclothes," Michelle tells PEOPLE. "Bathing suits are pretty and colorful but it's not our thinking that it is okay to be naked some places and not other places."
'To keep our hearts pure'
The solution is to find something "I feel comfortable in," Michelle says. "I am not feeling exposed in the ways I am uncomfortable with." For the trip, which airs Tuesday (9 p.m. ET) on TLC, that meant covering up in swimwear by WholesomeWear.com.
"The eyes are the windows to the soul," Michelle says. "And we are trying to keep our hearts pure, which is a struggle. Everyone has their idea of what is modest, but for our family, we try to avoid situations … like the public beach or swimming pools that can make it a challenge to keep our minds pure."
How about your — what is your idea of modest? Do you agree or disagree with Michelle Duggar?
Source: Alicia Dennis, People
Image: OK! Magazine