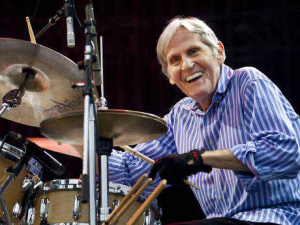 Levon Helm, the drummer, multi-instrumentalist and singer for The Band who kept the band's heart for more than three decades, died "peacefully" Thursday afternoon, according to his record label, Vanguard Records. He was 71.
A statement from the Rock and Roll Hall of Fame, which inducted Helm in 1994, called him the backbone of The Band. Helm had a voice unlike any other in rock music: definitively Southern, soulful and gritty, an oak-barreled whiskey that sometimes went down with a fiery kick. It was an American voice. Helm had been suffering from throat cancer. Despite reducing his voice to a rasp in recent years, it had not robbed him of his spirit.
At his home in Woodstock, New York, he regularly hosted the Midnight Ramble, weekly concerts that attracted sell-out crowds and all-star support from the likes of Emmylou Harris, Kris Kristofferson and Steely Dan's Donald Fagen. In the past decade, he recorded two albums, 2007′s "Dirt Farmer" and 2009′s "Electric Dirt," that won Grammys. And he occasionally took the show on the road, making appearances at Tennessee's Bonnaroo, the Newport Folk Festival and Los Angeles' Greek Theater.
After the Band's split, Helm recorded a handful of solo albums and toured with his old bandmates, minus Robertson. There were losses there, too: Manuel committed suicide in 1986, and Danko passed away in 1999. Helm occasionally played with other groups, notably Ringo Starr's All-Starr Band. He also appeared in several movies, the best remembered of which is "Coal Miner's Daughter," which won Sissy Spacek an Oscar for her portrayal of country star Loretta Lynn.
Helm had some hard times in the late '90s. His studio was hit with a fire. The throat cancer took his voice and medical bills threatened his house. He nearly declared bankruptcy. But the Ramble, intended as a one-off "rent party," according to Helm, helped raise money and revived his career. Indeed, it seemed there was nothing he enjoyed more than playing music for a few friends. In 2008, Helm received a Grammy Lifetime Achievement Award with The Band. He wasn't present to receive it. He held a Midnight Ramble in Woodstock instead.
What do you miss most about Levon Helm? Share your fondest 'The Band' memories with us!
Source: CNN
Image: Music Radar