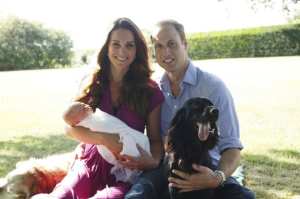 On Monday, Prince William and wife Kate released two informal family photos at the place their month-old so, Prince George, spent the first weeks of his life – the Middleton family home in Bucklebury.
'Sunny garden'
The pictures were taken by Kate's father, Michael, in the sunny garden of the Middleton family home in early August.
And the royal couple – dressed casually, while the Prince of Cambridge snoozed in the same blanket he was originally introduced in – didn't forget the fourth member of their household. Lupo, the cocker spaniel William and Kate adopted in early 2012, is featured in one of the shots, along with the Middleton's retriever, Tilly.
'Relaxed'
A Palace source tells PEOPLE William and Kate thought having a family member take the photos was the "best way to capture the couple in a relaxed manner."
Do you like the casual family photos of the royal family? Do you think Prince George will take after his dad when he grows up, or his mom? Feel free to share your thoughts and opinions with us regarding this latest royal news. Let your voice be heard via the comment box below!
Source: Simon Perry | People
Image: Mirror