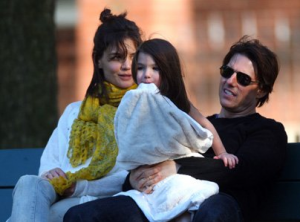 Katie Holmes is about to embark on her own Mission Impossible! The actress is asking for sole custody of Suri, so she can get her away from Scientology — but it's going to take a miracle to make that happen. A source close to the newly freed actress reveals:
"Katie does not want Suri raised as a Scientologist or raised under the tenets of the church. She wants her to enjoy a 'normal' upbringing with a wide variety of friends and a good schooling. She believes that will not happen if she is raised as a Scientologist. She is adamant she is going to have Suri raised outside of the church."
As adamant as Katie is about getting Suri out of the church, daddy Tom Cruise is just as — if not more — convinced that Scientology is exactly what his 6-year-old needs. Our insider says the only way Katie is getting her way, is over Tom's dead body:
"He [Tom] truly believes in the church and its teachings and truly believes that it is imperative that his children are raised as Scientologists. Tom will move Heaven and Earth to ensure Suri stays a Scientologist, at least until she is of an age to make a decision to leave on her own accord. But until then, make no bones about it, Suri will be raised within the church"
Rumor has it Tom wanted to send Suri away to a Scientology boarding school on a ship! The Scientology ship was the last thing they fought over before the split, and — from what we hear — the fight is not close to being over!
From the looks of it, one nasty trial is coming their way. So fellow gossipers and netizens, get ready to take sides! Who are you betting on — the lovely Katie Holmes, or the drop-dead-gorgeous Tom Cruise?
Source: Perez Hilton
Image: Celebrity Gossip