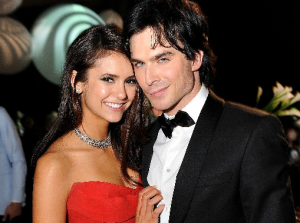 Vampire Diaries costars Ian Somerhalder and Nina Dobrev have called it quits after dating for several years, PEOPLE has confirmed.
'May have been hurting'
The couple were last seen taking a late-night trip to a cat hospital together last month, with no sign then that their own relationship may have been hurting. Somerhalder, 34, and Dobrev, 24, kept their romance secret during their early days as a couple, despite evidence that they were together.
"I didn't want to be dating one of my costars," Dobrev told Seventeen last fall. "My goal on the show was to be professional. But sometimes you can't help who you have a connection with, and you can only fight it for so long – which I did for a really, really long time."
'People change'
Check out what Ian Somerhalder's cryptic tweet on May 09:
"A THOUGHT FOR TODAY: People change and forget to tell each other. -Lillian Hellman, playwright (1905-1984)"
Well, do you think Ian Somerhalder's tweet above is talking about the reason for his breakup with Nina Dobrev? Did you see this coming? Feel free to comment on this latest celebrity breakup. Let your voice be heard via the comment box below!
Source: Tim Nudd, People
Image: Fan Pop!