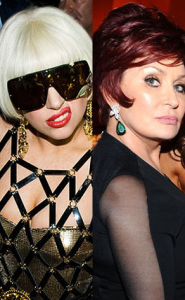 Sharon Osbourne has officially joined her daughter's feud with Lady Gaga … firing off a letter to the pop star calling her a hypocritical JERK who encourages her fans to harass her daughter Kelly.
'Campaign of online terror'
Osbourne is responding to a letter Gaga wrote to Kelly Osbourne and posted on her official website … in which LG blasted Kelly as a "bully" who unfairly picks on celebrities on her TV show "Fashion Police." Gaga said she's disgusted that Kelly and Joan Rivers constantly make "jokes about artists and celebrities as if we are zoo animals."
Sharon says Gaga's fans have been waging a campaign of online terror against the Osbournes thanks to Gaga's criticism of the show. Sharon claims some of the singer's fans have even made death threats to Kelly. Now, in her letter to Gaga … obtained by TMZ … Sharon demands Gaga instruct her fans to stop the harassment ASAP.
'Publicity seeking hypocrite'
Osbourne writes, "A word from you would stop all this hideous, negative and vile threats from your 'little monsters.'" Sharon also writes, "You say [Kelly's] work on E! with the Fashion Police is 'rooted in criticism, judgment, and rating people's beauty against one another.' Welcome to the real world."

She continues, "By your actions to Kelly right now, you have shown me that you are nothing more than a publicity seeking hypocrite and an attention seeker… You know it would have been much more dignified of you to do this privately. I am calling you a bully because you have 32 million followers hanging on your every word and you are criticizing Kelly in your open letter.  Are you so desperate that you needed to make this public?"
Well, what do you think about this latest celebrity feud? Which team are you in — Team Osbourne or Team Gaga?
Source: TMZ
Image: E! Online