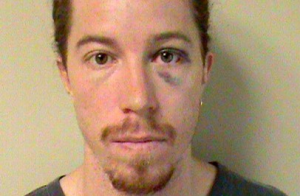 Olympic gold medalist Shaun White was arrested several hours ago after allegedly getting wasted at a hotel and badly injuring himself …  sources tell TMZ.
Sources tell TMZ … White was in a Nashville hotel when he allegedly trashed his room in a stupor.  When he was confronted by hotel staff, Shaun allegedly pulled several fire alarms and then ran fast … so fast he fell and split his head open. Ouch ouch ouch! Now, THAT's what you call a really painful experience — literally! And a shameful one at that, too!
Law enforcement tells us Shaun was arrested for public intoxication and vandalism, but was taken to a hospital for treatment first.  Once he's treated he'll be taken to jail. Shaun's rep could not be reached for comment. But let's give them a break. After all, a cracked skull is an injury that's fairly difficult to recover from!
Do you do things as terrible (or as stupid) as these when you get too intoxicated, too? How do you think would this incident affect Shaun White's Olympic career? Tell us about the dumbest things that celebrities have done while drunk! Feel free to give us a holler in the comment box below!
Source: TMZ
Image: ABC News