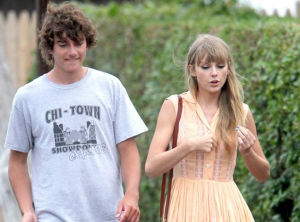 Looks like Taylor Swift will have some fresh material for her next album! The pop star, 22, and beau Conor Kennedy, 18, are over, sources confirm to PEOPLE. The pair, who enjoyed a whirlwind summer romance frolicking through Hyannis Port, Mass., showing several public displays of affection, split a while ago.
'She ended it'
"His friends have said it's over," says a source at his school, the Deerfield Academy, adding, "I have the feeling she ended it."
It's a bummer since Swift even got the stamp of approval from Conor's grandma, Ethel Kennedy, who called the starlet, "spectacular." When you get closer to your beau's family, it becomes even more of a bummer than it already is.
'Busy schedule'
In August, a source told PEOPLE Swift was "swept off her feet" by her then-boyfriend. But Swift's busy schedule could have made things difficult. She's currently promoting her new album, Red, performing at the Country Music Awards Thursday, will co-host the Grammy nomination concert, and just announced a 2013 tour.
Granting that it was a whirlwind summer romance, do you think Taylor Swift and Conor Kennedy are never, ever, ever getting back together? Do you think this story will make it to Swift's next album? Feel free to share your thoughts and opinions with us via the comment box below!
Source: People
Image: NY News Daily