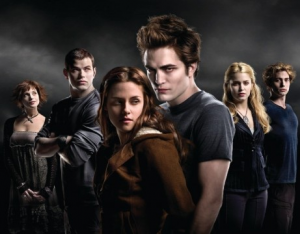 After months of attempting to come to terms with the reality that not only is Robert Pattinson and Kristen Stewart's relationship over, but that the end of The Twilight Saga is fast approaching with the November release of the last film in the franchise, Breaking Dawn – Part 2, we may not have to shed sparkly vampire tears of sorrow after all!
That's right, because the deliciousness that is Edward Cullen himself revealed that very soon, there may very well be a spin-off on the small screen! He explains: "I'm sure they'll have a 'Twilight' TV series spinoff soon. They'll do it again."
And take a deep breath, because Rob may even be willing to reprise his role for television! When asked about the possibility, he responded: "Who knows? The only thing that creates a little bit of a problem is that I'm supposed to be 17 forever. I'm not sure I can be 17 forever."
We imagine that there are LOTS of stories from the Twilight universe waiting to be told outside the realm of just Edward and Bella, and we'd LOVE to see what the right writers and producers could bring to the table, given the opportunity! What do U say, Stephenie Meyer? Is Twilight: The TV Show something you'd approve?!
Do you think a Twilight TV show is possible? If yes, would the same actors play the same roles, given the recent breakup issue between Robert Pattinson and Kristen Stewart? Share your excitement and speculations with us!
Source: Perez Hilton
Image: Twilight Series