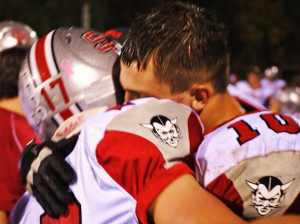 When Michael Ferns was racing toward the end zone, the Clairsville (Ohio) St. Clairsville High star had nothing in front of him but green grass and glory. He was seemingly seconds away from scoring his 12th touchdown of the season and wrapping up a victory for St. Clairsville against area rival Richmond (Ohio) Edison High. Then, just feet short of the goal line, Ferns slowed and walked out of bounds at the 1-yard line.
'A fitting touchdown'
Everyone in the stadium was stunned, except for Ferns' teammates, who instantly knew what he was doing: He was setting up a teammate to score a fitting touchdown in memory of his late father, who had died just two days earlier from a catastrophic stroke.
The player in question was Logan Thompson, a devoted freshman varsity football player who had never registered a single carry before in his career. Still reeling from his father's death, Thompson suited up for St. Clairsville nonetheless, providing security for the team's upperclassmen. During the team's victory against Edison, St. Clairsville coach Brett McLean had secretly encouraged his skill players to pull up short of the end zone if given the chance, setting the stage for Thompson to have a memorable first carry right into the end zone.
'The old man was watching'
Still, the plan was almost sabotaged by the referees, who were completely stunned by the fact that Ferns hadn't actually scored. Eventually, McLean's plan worked to perfection when Ferns found himself on a breakaway, then switched rolls to move from running back to bruising fullback for Thompson's cameo, helping clear a massive hole in the Edison line through which Thomson rolled into the end zone.
"Looking straight up into the sky after scoring my first varsity touchdown…i know the old man was watching! love and miss you so much daddy," Thompson tweeted after the victory.
Were you touched by Michael Ferns' TD tribute for Logan Thompson's late dad? Let your thoughts be known through the comment box below!
Source: Yahoo News
Image: Texas Hunting Forum