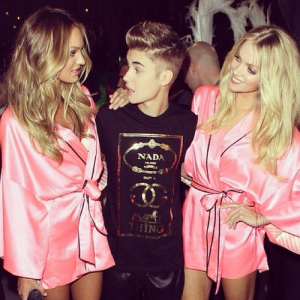 Justin Bieber met Selena Gomez for a chit-chat Sunday at a NYC hotel … but they are still officially single … TMZ has learned.
'The idea of messing around'
Sources connected with the former couple tell TMZ … they met to talk about the conflict that caused them to break up — the sources wouldn't ante up specifics but we're told it was Selena who pulled the plug. As reports have surfaced, trouble was already brewing before the big Jelena breakup ever happened. We should have seen it coming.
We're told nothing was resolved and they have NOT gotten back together. And, we're told, Justin is privately conflicted about getting back with Selena — he's still into her, but he also likes the idea of messing around, and he's saying the supermodels he's been hanging out with are tempting. Ah, young life! Wouldn't you love to mess around with a couple of those hotties?
'Door #18′
Justin — you're 18. Go with door #2. Agree or disagree?
Do you think Justin Bieber and Selena Gomez are never ever ever getting back together? Will banging hot supermodels suit Justin better? Feel free to send us your thoughts and opinions via the comment box below!
Source: TMZ
Image: Adi Saidi