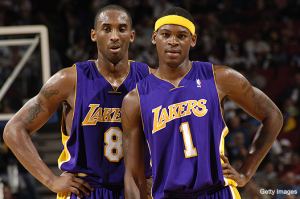 Lakers superstar Kobe Bryant is still a little chippy about the lineups that surrounded him during that 45-win season from 2005-06. Up to and including calling former starting point guard Smush Parker "the worst," just before Wednesday night's exhibition loss to the Portland Trail Blazers.
'We Were Too Cheap'
From Janis Carr at the Orange County Register:
"I almost won an MVP with Smush Parker and Kwame Brown on my team," Bryant said before Wednesday's 93-75 exhibition loss to Portland. "I was shooting 45 times a game. What was I supposed to do? Pass it to Chris Mihm or Kwame Brown?"

Bryant continued, taking aim at his favorite whipping boy, Parker, calling him "the worst. He shouldn't have been in the NBA but we were too cheap to pay for a point guard. So we let him walk on." 
'Calling the Guys Out'
About the talent surrounding him, or having to shoot 45 times (27.2, actually) a game, Kobe is spot on. Calling the guys out, though? Parker, we can understand — he's been taking shots at Kobe for years, now. Kwame? His effort was lacking, per usual, and he turned the ball over on nearly 17 percent of the possessions he used up. Chris Mihm? We're not feeling that as much. (And, as far as the Lakers being "too cheap to pay for a point guard," Kobe's a little off there, as well.)
Life is a lot easier, now, with Steve Nash handling point guard duties and Dwight Howard ready to throw down as many lobs as Kobe will give him, so you can't blame the man for giddily considering how far he's come. But names, Kobe? Their names? Cold. It's going to be a fun season in Los Angeles. And a hell of a lot of fun as Kobe gets older, and grumpier.
Well, what do you think of Kobe Bryant's lashing out at his ex-teammates? Feel free to broadcast your opinions to the world via the comment box below!
Source: Yahoo News
Image: Jocks and Stiletto Jill