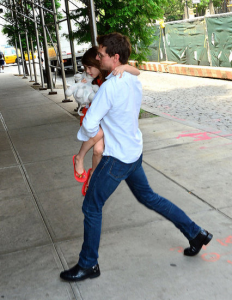 Two weeks after Katie Holmes filed for divorce, Tom Cruise arrived in New York City on Tuesday and was photographed carrying his daughter Suri into a hotel. It is his first visit since he and Holmes, 33, reached a divorce settlement on July 7.
"He's been dying to see her," says a source of Cruise, who finished shooting his latest movie, Oblivion, on Sunday in California. Cruise learned of Holmes's divorce filing while shooting the same film on location in Iceland. And although he and Suri have spoken frequently since the split, he has not seen her in person since mid-June.
Holmes and Cruise have agreed that Suri will live in New York with her mother, but the actor will see her often. "He'll be with her whenever he can," says a source. Currently, the pair plan to spend several days together in the city, where Suri is expected to attend a local private school this fall.
Sources close to Cruise and Holmes say the former couple will work together to make sure that hand-offs are as pleasant as possible. "They both know they are going to have to make decisions together regarding Suri for many, many years," says the source. "And they know she loves both her parents."
With both parents working towards what's best for Suri, do you think everything will be smooth sailing from now on? Is there any chance that Katie Holmes will return to Tom Cruise?
Source: People
Image: Pop Sugar