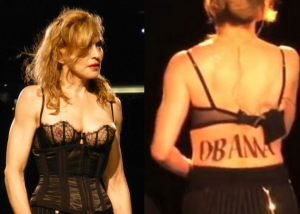 Madonna asked everyone in the audience of her Washington, DC performance Monday night to vote for President Obama because he is a "black Muslim."
"Y'all better vote for f**king Obama, OK? For better or for worse, all right?" the shouted from stage while sipping from a bottle of water with a straw. ""We have a black Muslim in the White House! Now that's some amazing s**t." We're not sure what to make out of that but it sounds like Madonna is endorsing Obama.
Madonna, 54, also stripped down to her bra to reveal "Obama" stenciled in big letters on her back, before promising (or warning?): "When Obama is in the White House for a second term I'll take it all off." Whoa! We're guessing a lot of people will be looking forward to (and dreading) that onstage stripping by Madge! Which side of the coin are you?
President Obama is not a Muslim.
Well, do you believe Obama is a "Black Muslim?" Are you going to vote for him this coming election? What do you think of Madonna's bizarre endorsement of President Barack Obama? Feel free to air out your thoughts and opinions via the comment box below!
Source: Fox News
Image: Vibe Vixen