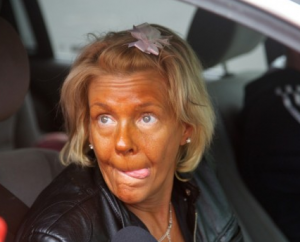 Patricia Krentcil, the slender, leathery New Jersey mom who's pleaded not guilty to bringing her 6-year-old daughter into a tanning bed with her, is heatedly lashing out at those who may criticize her look.
"They're jealous, they're fat and they're ugly," Krentcil, 44 years old, told TMZ, after saying that "there's somebody out there my whole life who doesn't like me." Uh-huh.
She agreed with the reporter's suggestion that she is the victim of a witch hunt, and once again proclaimed her innocence in the matter that has gained national attention: "I'm a great mother, and I would never do that to my child," Krentcil said while loading her shopping into a car.
Krentcil's daughter, 6, apparently showed up to school one day with a sunburn, telling friends she went tanning with her mom. But Krentcil – whose skin is an unnatural shade of dark brown as a result of bronzing under lights – says the whole thing is "preposterous."
Do you believe Tanning Mom's not guilty plea, or do you think she is just a victim of a nationwide witch hunt? Do you think she is really a "great mother" as she claims? Kidding aside, feel free to comment about this issue. Share your opinions with us!
Source: People
Image: Yeeeah!