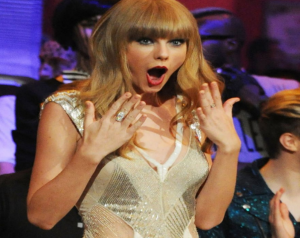 To the next famous guy who decides to date Taylor Swift: Be prepared to get some unwanted shoutouts well after you and the songstress have broken up.
'Been doing it a long time'
Swift made plenty of headlines after her Grammy performance of her tune "We Are Never, Ever Getting Back Together" during which Swift stopped mid-song with the line:
"So he calls me up and he's like, 'I still love you,' the 23-year-old chirped, putting on a bit of a British accent, in what many believed was an imitation of her most recent ex-boyfriend, pop star Harry Styles. "And I'm like, 'I'm sorry, I'm busy opening up the Grammys. And we're never getting back together, like, ever.'"
Her mission may not have been accomplished though, as Styles took the high road when asked about Swift and her performance on a British radio show this week.
"She's a great performer and she always performs great," he praised. "She's always good on the stage. She's been doing it a long time. She knows what she's doing on stage. It was just another good Taylor Swift performance."
'Another dig at an ex'
Despite Styles' good-guy vibe, it seems that Swift may have been trying to send more messages the One Direction singer's way when she took the stage at the Brit Awards where Styles happened to be sitting in the audience. The blonde pranced around in a white poofy dress that looked a whole lot like a wedding gown before ripping it off to reveal a skimpy black-hot-pants outfit paired with laceup boots. Translation: I didn't want to marry you anyway, Harry?
We may never know for sure, but given Swift's history, chances are the move was indeed another dig at an ex. In the past, most of her swipes, however, come via her song lyrics and media interviews, where she hasn't been afraid to shame the dudes who left her behind.
So, whaddaya think… is Taylor Swift the worst ex-girlfriend ever? Guys, would YOU consider dating Tay-tay?
Source: Lizbeth Scordo, Yahoo OMG!
Image: Mirror