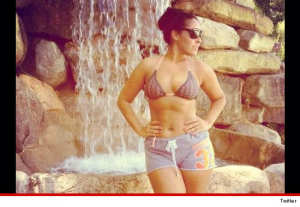 Last week, TMZ reported that Myla Sinanaj, the woman who claims to have had a relationship with Kris Humphries following his split from Kim Kardashian, is pregnant. Sources claiming to be friends of the NYC hotel worker said she is three months along — and the baby is Kris's! Fast forward to this week, and Myla says she's NOT in the family way!
Myla fired back at the report on Twitter, posting a series of tweets and a photo of herself looking curvy but without a noticeable baby bump. "Uhhh ooooo Loook No babyy bump! ‪#Shocker‬ yes I'm a thick curvy girl *All natural I'm comfortable in my skin," she tweeted.
"What because I dont [sic] have fake boobs, fake ass, lipo, cellulite & laser treatments I'm fat? F**k Yall! I'm natural baby! Worry bout the fake!" she continued.
Finally, Myla promised to tell all, tweeting, "I'm doing a Video right NOW that I will Post with the TRUTH out of MY mouth and kill all these 'sources' story's ‪#overIT."
This is all good news for Kris, who has insisted on a paternity test, says the New York Post. The drama surrounding Myla's is-she-or-isn't-she pregnancy has reportedly put a huge wrench in his divorce case.
Well, aren't we all confused right now! Do you think the pregnancy rumors are true, or is Myla just playing with Kris' head? Did she have an abortion? Well, feel free to speculate with us and type in your opinions in the comment box below!
Source: Wet Paint
Image: TMZ